Burnett's Hill Calvinistic Methodist Chapel is a rare and important survival of early Pembrokeshire chapel architecture. Built in cottage style in 1812 to serve the coal-mining community of Landshipping and Martletwy, it has been little altered over the years and has a timeless charm all of its own.
Like so many Welsh chapels, Burnett's Hill was forced to close in the 1980s for want of a congregation, and it might have become a complete ruin but for the intervention of a group of local people who formed themselves into the Friends of Burnett's Hill Chapel and set about saving the building.
Thanks to the help of the Pembrokeshire Coast National Park and the Heritage Lottery Fund, this was achieved and the beautifully restored chapel re-opened in 2001.
Visitors are always welcome at Burnett's Hill where the door is always open. There is an information board in the porch telling the story of the local coal-miners who built the chapel which is now a venue for occasional concerts which help to support the upkeep of the building.
WHAT'S ON AT BURNETT'S HILL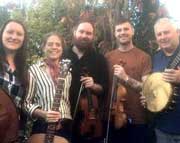 Thursday 13th February 2020 - SOLD OUT - GRITS N' GRAVY STRING BAND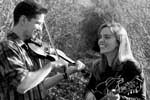 Tuesday 3rd March 2020 - CHARLOTTE CARRIVICK AND KIERAN TOWERS - Old-time Appalachian string band music from a brilliant banjo and fiddle duo. A PEMS promotion. 7.30pm. £12.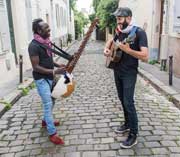 Wednesday 25th March 2020 - AMADOU DIAGNE AND CORY SEZNEC. Born in Senegal to a long line of Griot musicians, Amadou Diagne is a multi instrumentalist, singer and songwriter. He will be joined by a trio including banjo player, singer and guitarist Cory Seznec who draws inspiration from his musical roots in America. Their latest touring collaboration is called 'Touki', meaning 'traveller'. A Burnett's Hill promotion. 7.30pm. £12.
Seznec Bros at the chapel in 2014 - http://youtu.be/zMAR4IDOrLA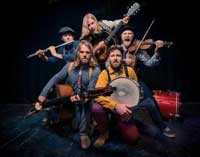 Wednesday 22nd April 2020 - SHEELANAGIG - A hugely entertaining quintet with a well-stocked armoury of instruments - guitar, fiddle, double bass, flute and percussion - these boys from Bristol create a real dynamic which is apparent in both their furious dance medleys as well as their interestingly arranged original pieces. A Burnett's Hill promotion supported by the Night Out Scheme. 7.30pm. £12.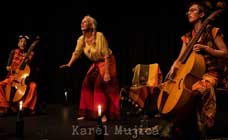 Wednesday 13th May 2020 - 'THE FIREMAKER' - The powerful, intuitive music of Tinc Y Tannau (Sianed Jones & Ailsa Mair Hughes, bass viols & voices) wrapped around three bold tales from lyrical storyteller Deb Winter. These enthralling stories of fire & desire, of hot pursuit & endless patience, woven through with exquisite improvisations, have been holding audiences spellbound. Journey into wild woods and to the World-Beyond-the-World. A BB Skone promotion. 7.30pm. £12. youtube.com/watch?v=uWTX0L_-YCM; www.tincytannau.co.uk; www.deborahwinter.co.uk.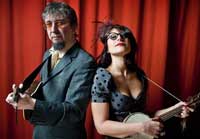 Wednesday 10th June 2020 - RED WINE SERENADERS - Italian duo Veronica Sbergia and Max De Bernardi play country blues and ragtime, hokum, jug band and rural music from the 20's and 30's. They like to keep this musical heritage alive, faithfully reproducing its original sound whilst giving it a modern twist. A Burnett's Hill promotion. 7.30pm. £12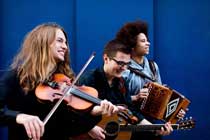 Wednesday 8th July 2020 - GRANNY'S ATTIC - Talented yound English traditional folk trio, stars of last summer's Gower Folk Festival. A Burnett's Hill promotion. 7.30pm. £12.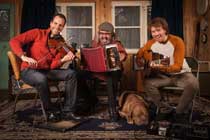 Monday 3rd August 2020 - YVES LAMBERT TRIO - French Canadian folk trio led by the legendary Yves Lambert, founder of La Bottine Souriante. A Burnett's Hill promotion. 7.30pm. £12.
Main Street Music, 44 Main Street, Pembroke SA71 4NP is selling tickets for all these Burnett's Hill concerts. Telephone 01646-621530.
You can also reserve tickets by phoning 01646-651725.
HOW TO FIND BURNETT'S HILL CHAPEL
FINDING BURNETT'S HILL CHAPEL FROM CANASTON BRIDGE
Head towards Carew on the Oakwood road. At Cross Hands, turn right just after Canaston Bowl. Stay on this road for 3.3 miles (straight through Martletwy) and then take the left turn up a steep hill. Turn left at the top and park along the verge on the right or in the paddock on the left.
FINDING BURNETT'S HILL CHAPEL FROM CAREW
Head towards Cresselly on the Canaston Bridge road. At Whitehill, turn left just after the Land Rover Garage. Keep going past the pub at Cresswell Quay and over the narrow stone bridge, taking the left hand fork up the hill and past Penquoit towards Lawrenny. At the first cross-roads (Deals Cross) keep straight on. Half a mile further on you come to Knowles cross-roads. Turn right and keep going along a narrow lane for a mile and a half until you reach the chapel. Park in the paddock on the right.
Useful tip: Bring a small cushion (the pews are hard) and also a pocket torch to find your car afterwards...

Burnett's Hill Chapel, Martletwy, Pembrokeshire SA67 8AX